ETHNAN TEMPLE SDA CHURCH Stan Hood, Senior Pastor

Ethnan Temple is a Bible based church that strives to make it as easy as possible for seekers to get to Jesus Christ. Our motto is "We Live, We Love, We Serve." We love the Lord with all of hearts, souls and minds. We love our neighbors as ourselves. We love the Word of God. We love each other. We encourage balance in the lives of our members by suggesting family recreation and rest outside of the church. We encourage each member to capitalize on their personal strengths and to enjoy being themselves. Lastly, we serve. We believe that the church exists to serve the community in which it resides. Click on the "
Vision
" tab for current project.
Join with us in prayer as we ask God to
"Bless this House"
and
Bring Back the Glory
of His presence in His temple. You can find us on
Facebook
or come join us live at 1205 Wood Street, Wilkinsburg, PA 15221.
(412) 241-5773
We worship on Saturday mornings. Bible Study starts at 9:30 am and we worship at 10:45 am.
Last Updated March 20 at 1:00 pm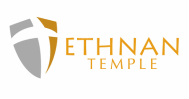 ---